Frequently Asked Questions
What is Dharakalp Powder ?
Dharakalp is a remarkable soil revitalizer and fertility booster amendment. It originates from the Earth's cooled lava layers, formed over an astonishing 100 million years of geological processes. After two decades of intensive research, we've uncovered a unique geological deposit. X-ray fluorescent spectroscopic elemental analysis reveals that Dharakalp powder contains over 80 essential minerals and more than 30 types of trace elements. Every element in Dharakalp is in its pure, kinetically active form. These untouched mineral molecules harness the natural energy of the Earth and cosmic forces to enhance soil fertility. Incorporating Dharakalp minerals into agricultural soil results in healthier and more nutritious crops. These minerals also provide vital nourishment for plants and the beneficial microorganisms within the soil. Scientifically tested and approved for field trials, Dharakalp efficiently detoxifies, revitalizes, and rejuvenates all soil types, transforming them into highly fertile grounds that yield robust, disease-resistant crops.
What does the name "Dharakalp" mean?
Dharakalp derives its name from the combination of two Sanskrit words, "Dhara" and "Kalp." In Hinduism, "Dhara" means "Earth," one of the five fundamental elements of nature. "Kalp" is associated with the ancient practice of bodily rejuvenation in Ayurveda, known as "Kaya Kalp." It involves reversing the natural aging process, detoxifying and purifying the body's cells, and transforming old cells into new ones—a process described as "Kalpa," or "Transformation into the original pure form." Dharakalp signifies the transformation of the Earth (soil and farming land) from a state of age, toxicity, or low fertility back to its natural, pure form—an ideal environment for all living organisms dependent on it.
Where does Dharakalp originate?
Soil particles and base elements either originate from the Earth's core or meteorites falling from the sky. These active soil particles are vital for life on Earth. They undergo a transformation process involving extreme pressure, temperature, and magnetic energy from radioisotope decay within the Earth's core, along with cosmic energy from beyond our planet. This process results in viscous lava, or magma, which rises to form the Earth's upper mantle and eventually the topsoil. It takes billions of years for these tiny soil particles to become active participants in cellular life, transitioning from geochemical mass to biochemical mass. Dharakalp accelerates the journey of natural elements from the Earth's deeper layers to the topsoil, reducing the time it takes for these elements to nourish life.
What effects does Dharakalp have on plants and soil?
Dharakalp exerts both direct and indirect effects on soil and plants. Directly, it provides freshly absorbed minerals and trace elements to germinating plant seeds, enhancing genetic activity at the genome and proteome levels. This results in a more robust root system, stronger stems and branches, and reduced flower loss due to wind and rain. These factors lead to increased crop yields, larger and heavier fruits and vegetables, improved flavor and nutritional value, and enhanced disease resistance. Indirectly, Dharakalp rejuvenates highly weathered or infertile soils, improving their cation exchange capacity, nutrient retention, and nutrient availability to plants. It fosters a natural release of elements and trace minerals from soil to roots through microbial and earthworm activity, rebalances soil pH, increases biodiversity, builds humus, and enhances resistance to pests, diseases, frost, and drought. Dharakalp reduces the reliance on chemical fertilizers, pesticides, and herbicides.
Can Dharakalp products effective on any soil?
Dharakalp Lava material was selected for a "carbon capture and storage system" study by the Indian Institute of Technology, Bombay, for a Ph.D. thesis and demonstrated its ability to capture, bind, and absorb atmospheric carbon dioxide and monoxide. Field tests conducted under the supervision of renowned horticulture scientists in Rajkot on 15 hectares of infertile land yielded positive results. Dharakalp Powder has shown its effectiveness on a variety of soils and plants.
What Products are available from Dharakalp Powder ?
Dharakalp is available in five forms: Superfine powder, Micronized powder, Farm Grade Powder, Pelletized Powder, and Granulated Powder. Each form has its specific applications, from injection into irrigation systems to mixing with potting soil, compost, or manual spreading in gardens or agricultural areas.
How is Dharakalp applied to the soil?
Dharakalp can be applied to the soil in various ways depending on the form. It can be sprayed, mixed with soil using machinery, or applied by hand. Different forms require different application methods, ensuring flexibility for various agricultural practices.
In what types of plants or crops is Dharakalp Powder effective?
Dharakalp has shown positive results in a wide range of plant species, from fruits like mangoes, oranges, and bananas to vegetables like potatoes, tomatoes, and onions, as well as grains like wheat and corn. It enhances the growth, yield, and quality of various crops.
Aren't all the minerals necessary for plant growth already in the soil?
Over time, agricultural land loses minerals and trace elements due to crop cultivation, erosion, and pesticide use. Most conventional fertilizers focus on replacing only a few essential nutrients, leaving plants deficient in micronutrients and trace elements. Dharakalp replenishes the soil with natural minerals and trace elements, ensuring healthy, high-nutrient crops.
How is Dharakalp different from chemical fertilizers?
Dharakalp is a natural product that enriches soil without harming the environment. Unlike chemical fertilizers, which can pollute the air, water, and food, Dharakalp provides a cost-effective, natural, and environmentally friendly solution for crop growth. It supplies essential minerals and trace elements, improving plant performance and yield.
What is the Law of the Minimum?
The "Law of the Minimum," formulated by Justus von Liebig, states that plant growth is determined by the scarcest essential nutrient. Conventional fertilizers often focus on macronutrients like Nitrogen (N), Phosphorus (P), and Potassium (K), neglecting essential trace elements. Dharakalp ensures that plants have access to a wide range of trace minerals, promoting optimal growth and immune function.
Can I reduce other fertilizers when using Dharakalp?
While using Dharakalp for the first time, it's advisable not to reduce other fertilizers that provide Nitrogen (N) or Phosphorus (P). However, as Dharakalp enhances soil fertility over time, you may find that you can gradually reduce your reliance on chemical fertilizers while maintaining or even improving crop yields and quality.
Can too much DHARAKALP be toxic as chemical fertilizer/pesticides?
No, Dharakalp is 100% naturally-derived and non-toxic to plants and the environment. It does not pose any harm, and its natural composition enriches the soil, promoting healthy, disease-resistant, and sustainable plant growth.
Does DHARAKALP contain heavy metals?
Dharakalp is a naturally-occurring sodium calcium aluminosilicate and does not contain heavy metals that can pollute soil, plants, or food. It is chemically unaltered and environmentally safe.
What is the Cation Exchange Capacity of DHARAKALP?
Dharakalp typically has a Cation Exchange Capacity (CEC) ranging from 25 to 34 meq/100 g. This CEC value indicates its ability to exchange cations between soil and solution, enhancing soil fertility, nutrient retention, and groundwater protection.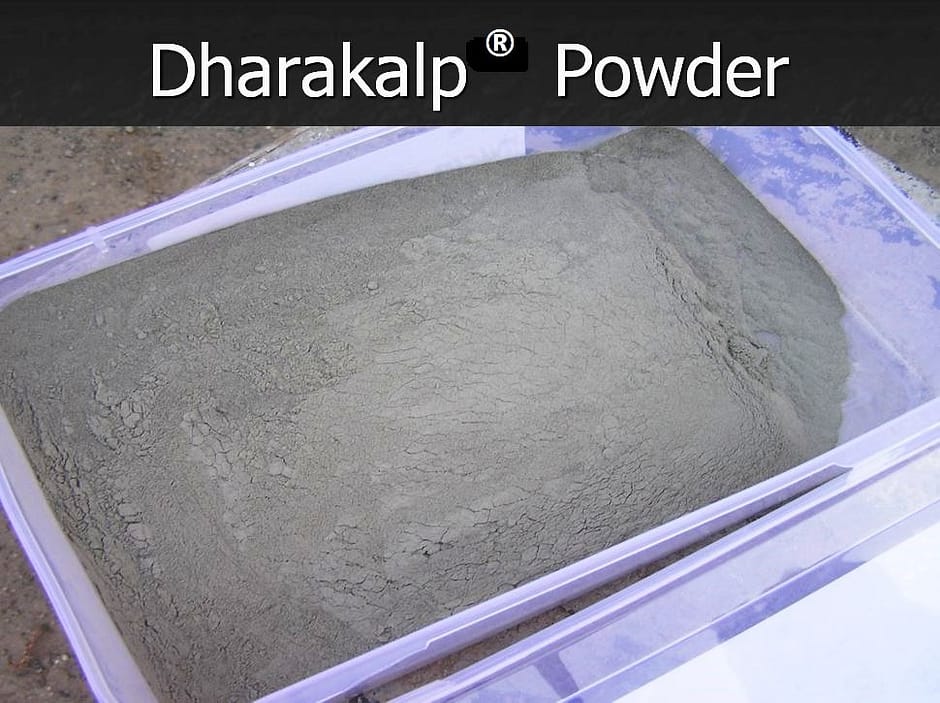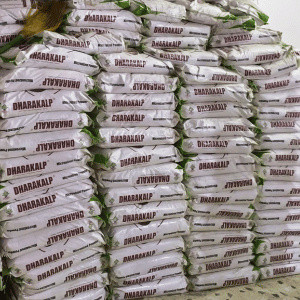 We hope these FAQs provide you with a comprehensive understanding of Dharakalp and its benefits for soil and plant health. If you have any further questions or inquiries, please don't hesitate to reach out to us.
Unlock the Power of Dharakalp®Lava Powder for Sustainable Agriculture
Welcome to Dharakalp, where we bring you a transformative solution for sustainable agriculture and environmental stewardship. Our cornerstone product, Dharakalp®Lava Powder, is more than just an agricultural supplement; it's a testament to our commitment to nurturing the Earth and safeguarding its future.
At Dharakalp, our mission is clear and unwavering: to revive and revitalize the very foundation of life on our planet—the soil. We understand the pressing need to counteract the negative impacts of modern agriculture and the exploitation of our natural resources. Our goal is to create a harmonious relationship between humanity and the environment through symbiotic living practices.
The Power of Dharakalp®Lava Powder:
Dharakalp®Lava Powder is a breakthrough innovation designed to restore soil health and promote sustainable farming. Derived from volcanic rock, this natural product is rich in minerals and nutrients that breathe new life into depleted soils. Here's why it matters:
Soil Health: Our product significantly enhances soil fertility, ensuring that your crops receive the essential nutrients they need for robust growth.
Carbon Capture: By infusing volcanic minerals, we help soils capture and store carbon, contributing to climate change mitigation.
Biodiversity: Healthy soils support diverse ecosystems. Using Dharakalp fosters biodiversity, preserving the delicate balance of life.
Sustainable Agriculture: We promote farming practices that reduce reliance on chemical fertilizers and pesticides, making agriculture more sustainable.
The soil is the foundation of all life on Earth. Unfortunately, widespread degradation and exploitation of land have compromised its health. Our commitment to preserving biodiversity, sustainable agriculture, and the planet's overall well-being drives us forward.
Join the Movement:
We firmly believe that action speaks louder than words. Dharakalp is more than just a product; it's a call to action. Together, we can make a significant difference in safeguarding the delicate balance of our planet's ecosystems and securing the well-being of all life on Earth.
Get Started with Dharakalp:
Whether you're a small-scale farmer, a large agricultural operation, or a passionate gardener, Dharakalp Lava Minerals is your trusted partner for unlocking your soil's true potential. Explore our range of products, learn about their benefits, and discover how they can transform your agricultural endeavors.
Dharakalp®Lava Powder isn't just a product; it's a movement towards a more sustainable and harmonious coexistence between humanity and the environment. Join us in our mission to rejuvenate the Earth and ensure a brighter, greener future for generations to come.
Explore Dharakalp today and unlock the power of nature for thriving crops and a healthier planet.