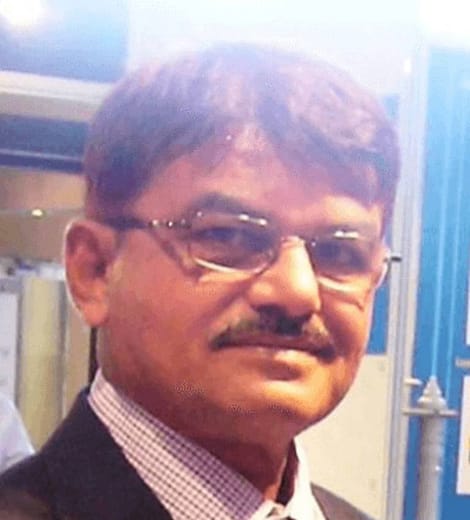 Dr. Ramesh Deshani
POSITION:
Founder/ Research Head
Dr. Ramesh Deshani's Dharakalp Lava Powder experience emphasizes his Earth stewardship. He grasps local environmental challenges in Gujarat's Amreli district. This natural soil conditioner transforms sustainable agriculture. Bridging medicine and environmental science, Dr. Deshani links planet health to humanity's well-being.
Key aspects of Dharakalp Powder:
Natural Volcanic Soil Conditioner: Dharakalp Powder is a natural and eco-friendly soil conditioner derived from volcanic sources.
Enhances Soil Fertility: It significantly improves soil fertility by enriching it with essential minerals and nutrients.
Promotes Biodiversity: The use of Dharakalp Powder encourages the growth of diverse plant species and beneficial soil microorganisms, promoting a healthier ecosystem.
Biodivercity benefits
90%
Sustainable Agriculture: It supports sustainable agricultural practices by reducing the need for chemical fertilizers and pesticides.
Regenarative agriculture
99%
Boosts Crop Yields: Dharakalp Powder has been shown to enhance crop yields, making it a valuable tool for farmers seeking increased productivity.
Regenarative agriculture
99%
Reduces Environmental Impact: By reducing the reliance on synthetic chemicals in agriculture, it helps lower the environmental impact of farming.
detoxyfy soil Regenarative agriculture
65%
Suitable for Organic Farming: It is often used in organic farming as an approved soil conditioner due to its natural origin.
Safe for the Environment: Dharakalp Powder is non-toxic and does not harm the environment, aligning with eco-balanced and biodiverse principles.

Respects Nature's Balance: Its application contributes to the symbiotic coexistence between humans and the Earth, as advocated by Dr. Ramesh Deshani.

Part of Sustainable Practices: Dharakalp Powder represents a sustainable and responsible approach to agriculture, aligning with the mission to protect the planet from negative technology and ill-conceived science.
These points illustrate the value and significance of Dharakalp Powder in promoting sustainable and eco-friendly agriculture while respecting the principles of environmental harmony and Earth stewardship.
Dharakalp Lava Powder boosts soil fertility and biodiversity. This aligns with his advocacy for coexistence. Dr. Deshani's diverse knowledge empowers him to address environmental issues comprehensively. His understanding of the human-environment connection is pivotal for an Earth-friendly future. He underscores the need to protect our planet. His technical expertise equips him to innovate sustainable solutions. Dr. Deshani's mission to shield the world from negative technology is rooted in cutting-edge science
In summary, Dr. Ramesh Deshani's experiences, both personal and technical, epitomize his commitment to harmonious coexistence. His use of Dharakalp Lava Powder and diverse expertise exemplify his dedication to a more eco-balanced and biodiverse world, focusing on human and planetary well-being.