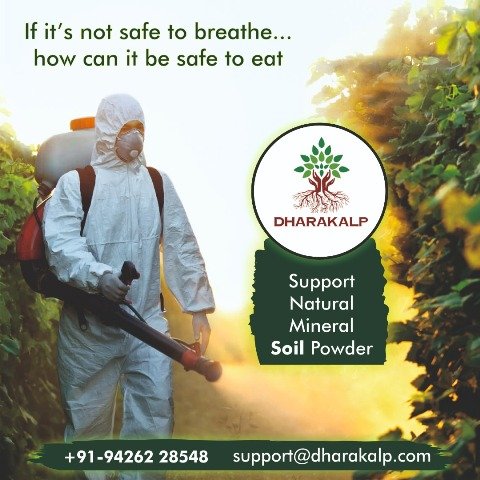 When it is challenging for the customer to have a thorough knowledge of the pros and cons of the big company product and to decide whether to use it or not, than understand that it is not an ignorance of customer but truth was buried silently to hide ailments from the society of that product by crooked company.
Such company with huge money power controls public policy makers and self funded research that only support their agenda to favor sell.
They also block research and publication that is related negative impact of their products on environment and living species. Since last century same dirty game played also by International companies of chemical fertilizer, Pesticides, herbicides and GM seed industries. Today I would like to express my personal views as a man of medicine about impact of Agriculture Chemical made by factory.
The Environmental and Human Health impact of Chemical Fertilizers, Chemical pesticides and Herbicides.
(1) Environmental impact of Chemical Fertilizers:
Synthetic and Chemical fertilizers are made to supply plant macronutrients for greater yield. It provides nitrogen, phosphorus, potassium with or without secondary plant macronutrients e.g. calcium, magnesium, and sulfur and micronutrients like copper, iron, manganese, molybdenum, zinc, and boron.
All such fertilizers initially give high plant growth and productivity and show happy plant scenario at farms with feel good factor after some time it create vicious cycle of dependency to use it again and again. Now sinking starts by degradation of Soil, Crop and farmer's financial health.
Chemical fertilizer by destabilizing equilibrium of a stable soil it reduces plant survival, Plants becomes susceptible to pests and diseases as they lack good immune system, Major Root burn or fertilizer burn also occurs, as chemical fertilizers do not allow enough water intake of the plant.
It also starts to suppress the natural soil fertility by depleting it and reducing potency of essential soil nutrients and minerals that are naturally found in native and fertile soil. It also destructs the soil structure and makes soil alkaline, harder and degraded resulting in barren land. Soil is the living media not only for plants but it also harbors infinite species of Micro biomes, Microbes, Bacteria, Fungus, Nematodes, Micro fauna (earth worms)etc. All they live with disciplined symbiotic harmony that care and control natural eco balance of life, maintain purity of soil, water, air and environment. Excessive fertilizer ends this entire ecosystem including water ways, leading to increases in photosynthetic organism growth, which ends in decay and thus Eutrophication and dead soil zones ending in lifeless area.
Fresh water bodies become heavily enriched with unwonted nutrients and minerals due to runoff from upper level farming lands. This results in a number of complications in downstream. Eutrophication induces excessive growth of water plants and algae which can kill off marine bio-world dependent on arriving fresh water. Overgrowth of Cyanobacteria producing harmful toxins that can accumulate in the food chain and can be harmful to humans. Phosphate is major contributor to the Eutrophication effect. Chemical fertilizers that have polluted the rivers, lakes, and even oceans are high in nitrogen-rich compounds which cause oxygen depletion. It is the most manmade cruelty that we started to kill life under the water with chemical and pollution. .
The chemicals found in synthetic fertilizers, specifically nitrate, are the main reasons for water pollution.
The long term effect makes soil acidification, and accumulation of toxic elements like, cadmium, fluoride, radioactive elements, lead, arsenic, chromium, and nickel and finally disruption of the Wholesome biology of the soil.
Thus chemical fertilizer creates widespread adverse impact on Nature's ecosystem and producing more greenhouse gases.

(2) On Human Health Impact of Chemical Fertilizers:
It is very serious and terrifying, it creates direct and indirect toxic effect,
In indirect effects it is decreasing the nutrient, mineral, vitamins and antioxidant density in the consumed plants resulting poor diet value and related deficiency and immune system related diseases.
Under high concentration of chemicals, Plant's biochemical activity is hampered and biochemical fluid exchange in tissues are also distorted trigging chemical reaction between nitrites and secondary amines or proteins that creates unwanted nitrosamine that causes human health hazards, Human exposure to nitrosamine is responsible for Alzheimer's disease, diabetes mellitus, and non-alcoholic steatohepatitis it also causes DNA damage, oxidative stress, lipid peroxidation, and pro-inflammatory cytokine activation, which together leads to increased cellular degeneration leading to varieties of debilitating diseases and even Cancer and death,
Blue Baby syndrome in new born baby is also the reason of nitrite water pollution.
Malnutrition, Low birth weight, congenital deformity, Deafness, Blindness, Cerebral palsy, mentally retarded baby, dementia, Obesity and many more diseases can be caused by chemical fertilizers.
In last, every time you put food in your mouth, ask your self – is that food promoting health, or contributing to chronic disease?
For everyone life is all about holy, meaningful and happy humanism, Let's keep our earth and next generation safe, for the present and the future!!!
Don't Pollute Soil, Make better world or face the end of mankind from the planet soon.
---